Add Emphasis to Paragraphs with Drop Caps in Word 2007
Andadapat menambahkan penekanan pada dokumen Word 2007 Anda denganmenggunakan Drop Caps ... kau tahu, surat-surat besar pada awal dokumenatau ayat yang membuat dokumen Anda terlihat benar-benar profesional.
Klik awal paragraf Anda ingin menekankan. Kemudian klik tab Sisipkan pada Pita dan pilih Drop Cap. Anda dapat menggulir ke salah satu dari tiga Drop Caps preset dan dokumen akan berubah dengan pilihan Anda. Secara default akan drop oleh tiga baris.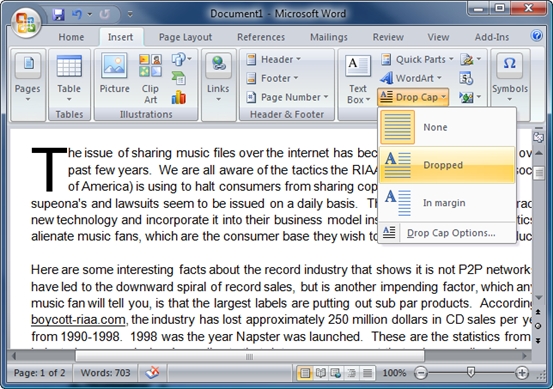 Namun, kami tidak pernah puas dengan pengaturan standar. Anda akan melihat pada layar di atas ada pilihan untuk Drop Pilihan Cap. Pada layar pilihan Anda dapat mengubah font, jumlah baris turun, dan posisi.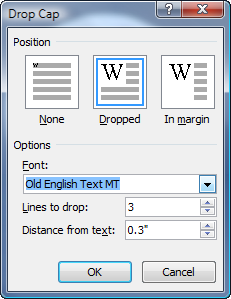 Berikut adalah hasil setelah memilih font Old gaya Inggris. (Anda mungkin ingin mengubah font biasa untuk mencocokkan)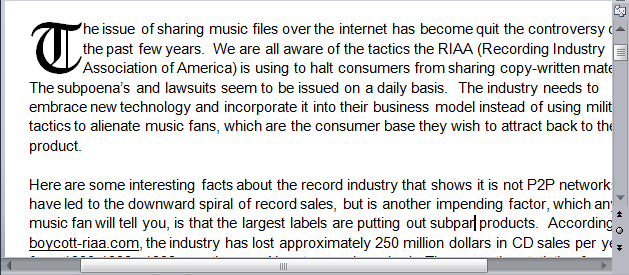 Iniadalah tip yang bagus untuk menambahkan 37 potongan bakat ke laporanAnda TPS, meskipun menggunakan Drop Caps untuk setiap ayat mungkinberlebihan. Digunakan hemat Namun, saya pikir ini sentuhan kreatif yang bagus!
away-thea