Add Word/Excel 97-2003 Documents Back to the "New" Context Menu After Installing Office 2007
JikaAnda menggunakan Office 2007 di lingkungan di mana orang lain yangmenggunakan Office 2003, Anda mungkin sudah mengatur Excel atau Worduntuk selalu menyimpan hingga 2003 format, tapi bagaimana bila Andamembuat dokumen baru menggunakan menu Baru? Pilihannya hanya sekarang untuk membuat file dalam format 2007, tetapi kita dapat menambahkan yang lama kembali.
Dalamkasus Anda tidak yakin apa yang saya maksud, klik kanan pada desktopdan pilih New dari menu konteks, dan Anda akan melihat Microsoft OfficeWord Document dalam daftar, yang menciptakan sebuah file docx kosong..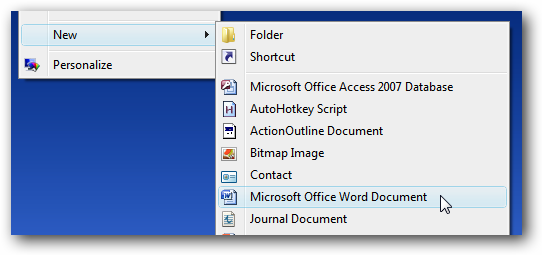 Kita dapat menambahkan item yang lama kembali ke daftar dengan registry hack sederhana.
Manual Registry Hack
"New" item disimpan di bawah definisi tipe file, dalam tombol Cari Syarat. Untuk membuat dokumen kosong, Anda harus menambahkan kunci bernama Nullfile ke sisi kanan.
Buka regedit.exe melalui pencarian atau kotak menu mulai dijalankan, kemudian browse ke tombol berikut untuk ekstensi doc.
HKEY_CLASSES_ROOT\.doc\Word.Document.8\ShellNew
Cukup membuat nilai string baru di sisi kanan dan nama itu Nullfile. Andamungkin harus menunggu beberapa menit sebelum itu muncul dalam daftarbaru, atau Anda selalu dapat log out dan kembali masuk
Andadapat melakukan hal yang sama untuk ekstensi file xls. Untuk Excel97-2003 dokumen dengan browsing ke kunci ini, dan menciptakan nilaiNullfile sama di sisi kanan.
HKEY_CLASSES_ROOT\.xls\Excel.Sheet.8\ShellNew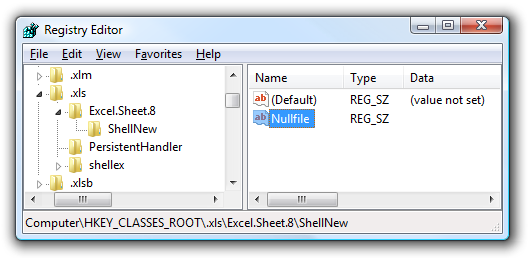 Untuk Powerpoint 97-2003 Anda dapat browse ke tombol berikut, menciptakan nilai lagi seperti sebelumnya.
HKEY_CLASSES_ROOT\.ppt\PowerPoint.Show.8\ShellNew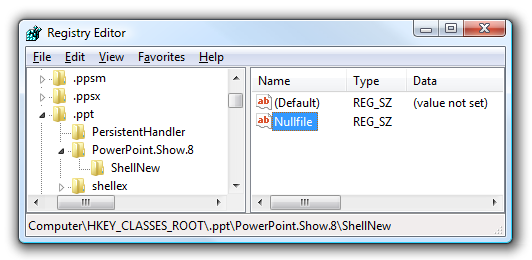 Andaakan melihat item pada sisi kanan sekarang, tapi jika Anda tidak Andamungkin harus menunggu beberapa menit atau log out dan kembali masuk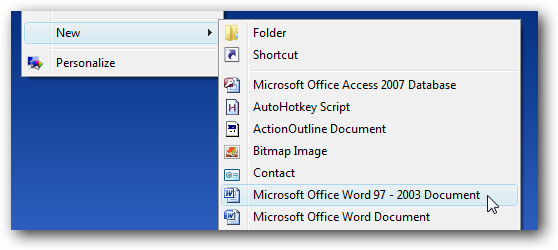 Downloadable Registry Hack
You can simply download, extract, and then double-click on one ofthe included files to add the information into the registry. Each fileis named according to the document type. There's also included files toremove them as well.
Download AddOffice2003DocumentsToNewMenu Registry Hack
away-thea